Thank you for visiting my site.
About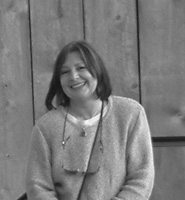 Jenn is an award-winning printmaker who specializes in both traditional and innovative forms of printmaking. She has been a freelance teacher for many years, and has a Degree in Visual Arts, having studied with the Okanagan University College and the Universities of Victoria and Lethbridge.
She has received many awards in Canada for her printmaking and her art is found in collections around the globe.
To be notified of upcoming workshops, send Jenn an e-mail at jenn.whitford.robins@gmail.com
Metal Monotype
Website imagery cannot capture the metallic qualities of this medium. Many who have viewed the original work speak of its "visual whisper", created as reflective light subtly varies the image with movement of the observer; others are fascinated by the areas of reticulation created by this process.
Metal monotype is a proprietary process that Jenn has developed over several years of exploration. Modified etching inks are used in conjunction with various types of metal plate. Variations from subtle coloration, similar to à la poupé, to results similar in appearance to enameling or impasto oil painting are all possible. Often the images are embossed.